REFLECTIONS ON AUTHENTIC MOVEMENT, THEORY, PRACTICE AND ARTS-LED RESEARCH
Monograph (E. Goldhahn, June 2022) in
Routledge series Research in Creative Arts and Expressive Therapies.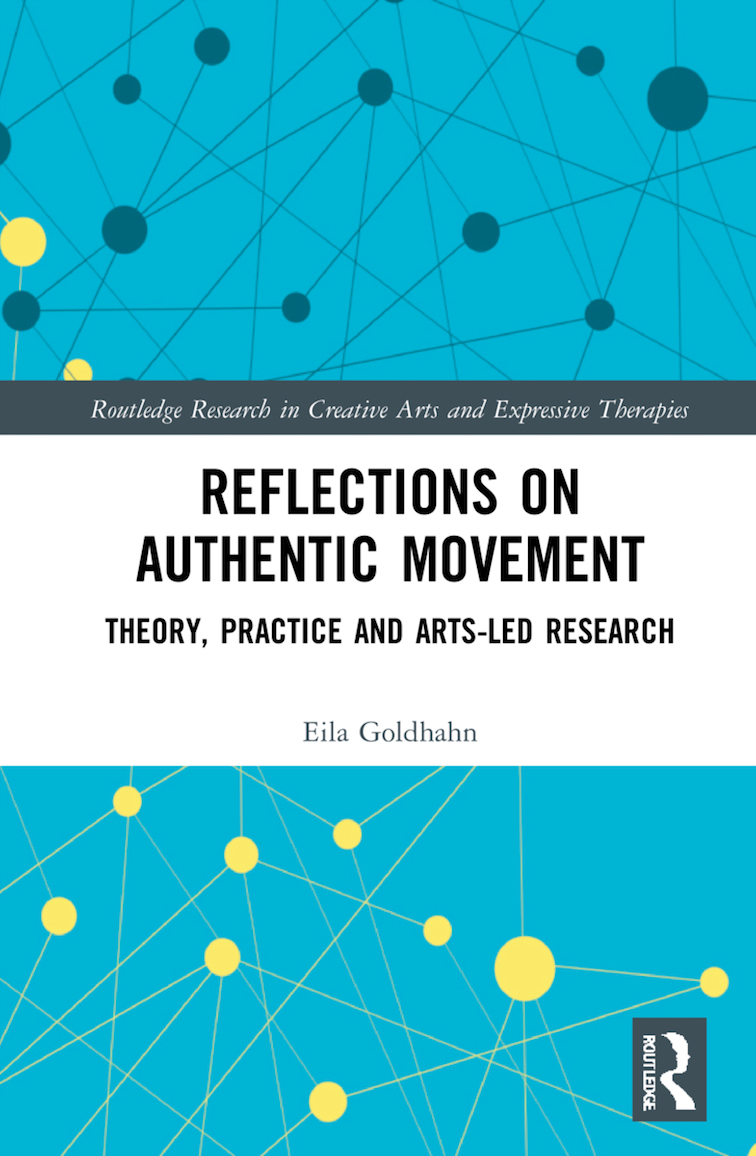 "With vivid descriptions, penetrating and clear language, Dr. Goldhahn's outstanding body of work is at last readily accessible to the global audience of Authentic Movement scholars and practitioners. It is a profoundly original undertaking, one that not only maps the history of the practice and the discipline, but also expands it through art as well as performative research.
Dr. Goldhahn's writing rhythm, sometimes syncopated, at other times fluidly poetic, makes reading her book a pleasure. She paints artistry as witnessing and object-making as dancing movement. Her installations bridge life, death, and ritual, reminding us how private and public spaces in Authentic Movement come to be—through shared experiences. Dance, imagination, interpretation, and inner witnessing take on deeper meaning and scope via her "camera-witnessing" technique.

During many years of Authentic Movement practice, I had never questioned the use of the word "authentic," even after having read her 2009 article in the AJDT. Certainly I could not have researched, dissected, stripped it of its current usage and meaning in the way Dr. Goldhahn has. Whether broadening the concept of authenticity, rejecting some of its preconceptions, or magisterially weaving it in and out of famed continental philosophers' contemplations, Dr. Goldhahn describes the essence of this practice and, perhaps, what Janet Adler in her later writings calls "direct" experience.

In her search for an ontologically adequate and methodologically correct term, Dr. Goldhahn merged the constant experience of opposites in Authentic Movement into one fluid expanse of possible relationships and connections she named MoverWitness.

The learning process of collaborative choreography, coupled with the use of digital devices, offers a novel, intense method of exploration for dancers, practitioners, supervising therapists, and artists, using curiosity, limits and boundaries, intertwining bodies, movements, actions, reactions, and non-judgmental language.

Furthermore, Dr. Goldhahn's relentless questioning and probing of intellectual boundaries gives us opportunities to peek, not only into our ever-present digital experience with an ethical eye, but also to confront our illusion of embodied presence and blurring of our digitally-transmitted experiences.

Her holistic merging of science, aesthetics, kinesthesia and proprioception uproots Cartesian dualism. This allows us becoming one with, and at the same time, micro-focusing on elements of the urban environments or natural habitats. At the end, Dr. Goldhahn invites us to explore MoverWitness for its ecological clarion call to stop the destruction of our world. She is devoted to communicating "the realization of the interconnectedness and dependencies of all ecologies" in her strong belief that "creative embodiment, empathy, and non-judgmental way to use language" in collaborative relationships will foster and shape a new world for all living creatures.

Patrizia Pallaro
Moving the Self Psychotherapy Center
Annapolis, MD. November 20023.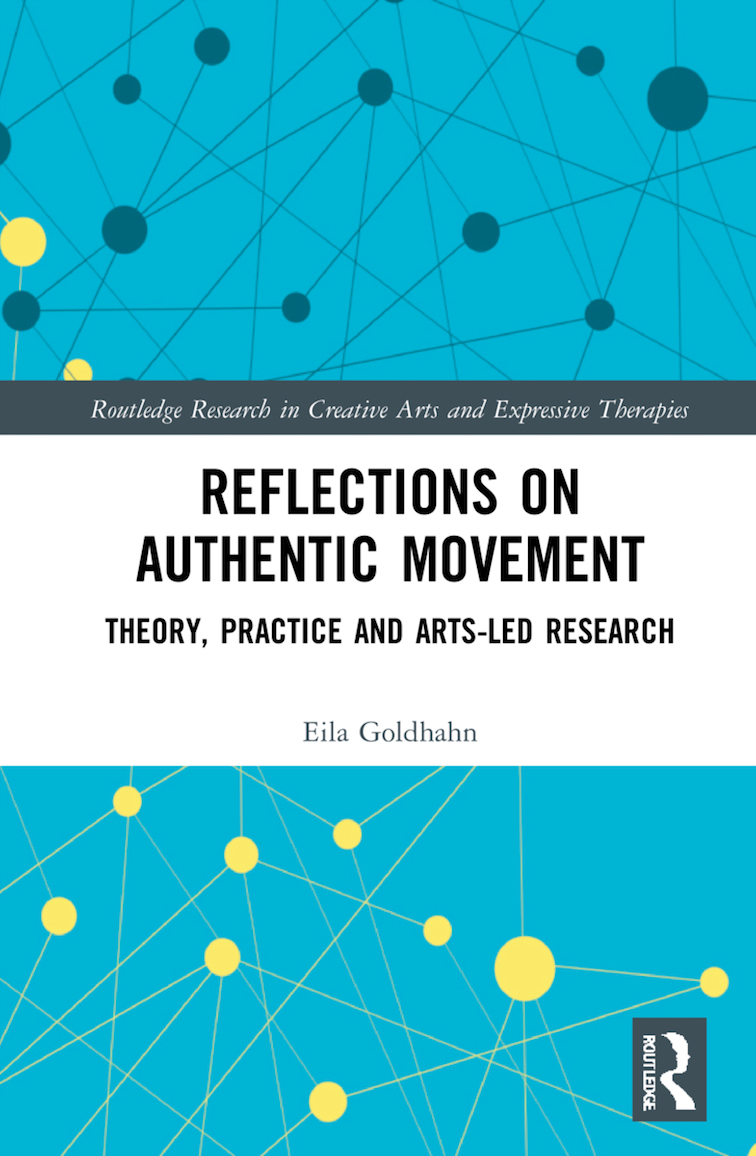 Available as hardcopy and as an affordable E-book.
Good news: from February 2024 available as an affordable Paperback.
With gratitude to my teacher Dr Janet Adler (1941-2023), who writes in July 2023, shortly before her passing: I have just finished your book! What a beautiful offering...
It was clear throughout how thorough and wide your depth of thinking expanded, your reach into science and art and philosophy."
Dr Janet Adler (1941-2023),
Founder of the Discipline of Authentic Movement
What other experts in the field say:
***
"I love the book. What a great resource Eila has provided for all of us studying this practice. I will give it as a resource to my students, it will be top of the list."
Wendy Elliott
Somatic Depth Psychotherapist, Board Certified Dance Movement Therapist, Somatic Experiencing Practitioner, Licensed Professional Clinical Counselor, Ojai, California
***
"Eila Goldhahn offers a rich and sensitive framework for rethinking the contemporary discipline Authentic Movement. The reader is guided through the various components of the method with maintained respect for the legacy of ideas. Goldhahn creates a lucid web of knowledge rather than analysing components one-by-one, beautifully conveying a sense of what the discipline of Authentic Movement is all about. Knowledge emerges with a linguistic simplicity that does not simplify complex matters. This book will certainly serve students on their learning path within the field of Dance Movement Therapy. The guidelines in chapter three also offer university teachers in DMT an embodied frame of thought that is far more helpful than what a concrete step-by-step manual-based instruction would be. Goldhahn's approach highlights the value of human communication within university learning. For students, teachers as well as readers outside of the academy who are interested in Authentic Movement – this book is a gift!"
Eva Tillberg
Registrered Dance Movement Therapist, Licensed Psychotherapist and Supervisor, University Lecturer in Psychotherapy and in DMT, Karlstad University, Sweden
***
"Eila Goldhahn contributes to the Authentic Movement literature though a carefully considered re-framing of the practice, naming it the MoverWitness, while highlighting a unique creative perspective of the practice with her essays on arts-led research. This book gives the field a fresh application of AM, centered firmly in its rich and fertile history."
Marcia Plevin
Arts Therapy Italiana & Circles of Four, Bologna
***
"This book is recommended reading for artists and dancers interested in engaging with Authentic Movement for their own creative outputs and others from education, recreational and health fields who would like to understand more about the adaptive nature of Goldhahn's MoverWitness, an interdisciplinary tool....Further the book provides the reader with a comprehensive pathway to the theory and practice of the Discipline of Authentic Movement."
Professor Helen Payne
University of Hertfordshire
***
GARDENS OF CULTURE
Visionen und Experimente für eine Zukunft
Conference & Exhibition INTERVAL at Abi Warburg Haus, Hamburg, November 2023
Curation and presentation on the topic of Dartington and postmodern dance in 1980s.

MoverWitness InterdisciplinarityInternational Conference Presentation (May 2023), Authentic Movement Summit"MoverWitness (Goldhahn 2007) is a new term (for the Discipline of Authentic Movement, Adler 2002) and aids to transfer core values and practices usefully to other disciplines." (Conference Proceedings, MoverWitness Interdisciplinarity, E. Goldhahn 2023)

Questioning 'Normality'
Book Review (November 2022)
"Enlarging the issues at stake to a global and interspecies scale Carroll poses that dissolving concepts of normality may pave the way for a non-binary view that is essential to heal human and interspecies relations and develop a bio intelligence."

(Questioning Normality, E.Goldhahn and M.Plevin 2022)
Available at
https://doi.org/10.1080/17432979.2022.2140199
The MoverWitness
Discussion of project and film showing "Here we are now" by E. Goldhahn at online exhibition event
Alongside British Art Show
(Plymouth, April 2022)
Being seen digitally: exploring macro and micro perspectives

Essay in Journal for Body, Movement and Dance in Psychotherapy (August 2020)
"Human senses and social interactions evolved and adapted to function optimally in the presence of another body equipped with the same senses. The evolutionary function of innate mirror neurons is based on individuals being in each other's presence, of having eye contact, of being in earshot, of joining each other's rhythm of breathing, to read and emphasize with facial expressions and gestures."
(Being seen digitally: exploring macro and mirco perspectives, E. Goldhahn 2020)
Make contact
Readers' Resources

The book
Reflections on Authentic Movement
references a number of art works and films not depicted in the actual book. Instead they can be found here:

Page 66
Portrait of a Mover
(Video still, filmed at Dartington). © Eila Goldhahn 2023.
Page 66
Movers at Dartington
(Video still). © Eila Goldhahn 2023. Click on image to view this 5 minute film.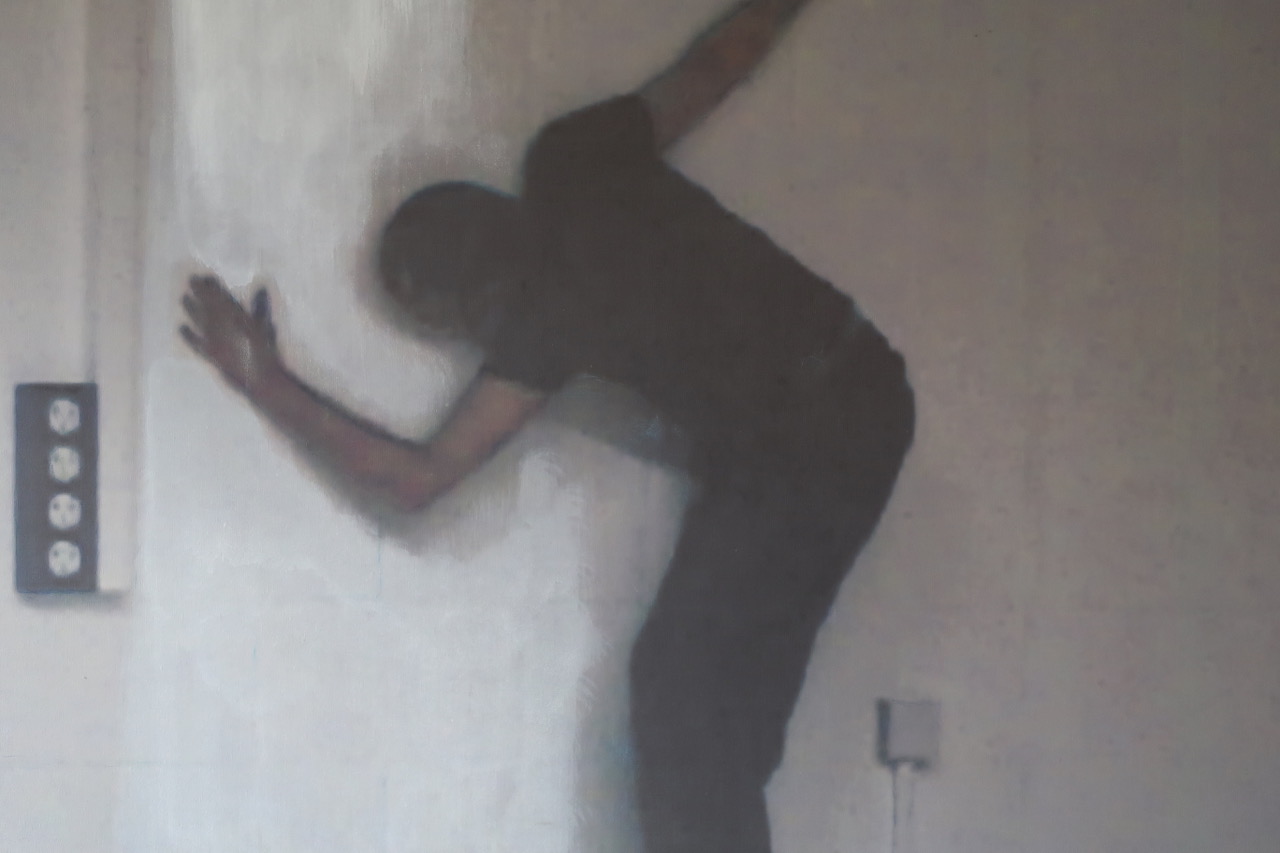 Pages 66 & 67
The Wall, detail 1
(Painting on video still, filmed at Dartington).© Eila Goldhahn 2023.
Page 72 to 83

Long Circle
(Video still, filmed on the island of Pettu, Finland). © Eila Goldhahn 2023.
Click on image to view 2 minutes of this film
or
email
and ask for a free file transfer of the whole 11 minute film.
"
Long Circle
is a record of a particular session as seen from a personal witnessing perspective. Methodologically, this way of camera-witnessing aims to be congruent with the ethics of Authentic Movement itself. Documenting a perspective into a usually private world,
Long Circle
becomes an ethnographic, artistic document." (Page 81, RAM, Theory, Practice and Arts-led Research, E. Goldhahn 2022)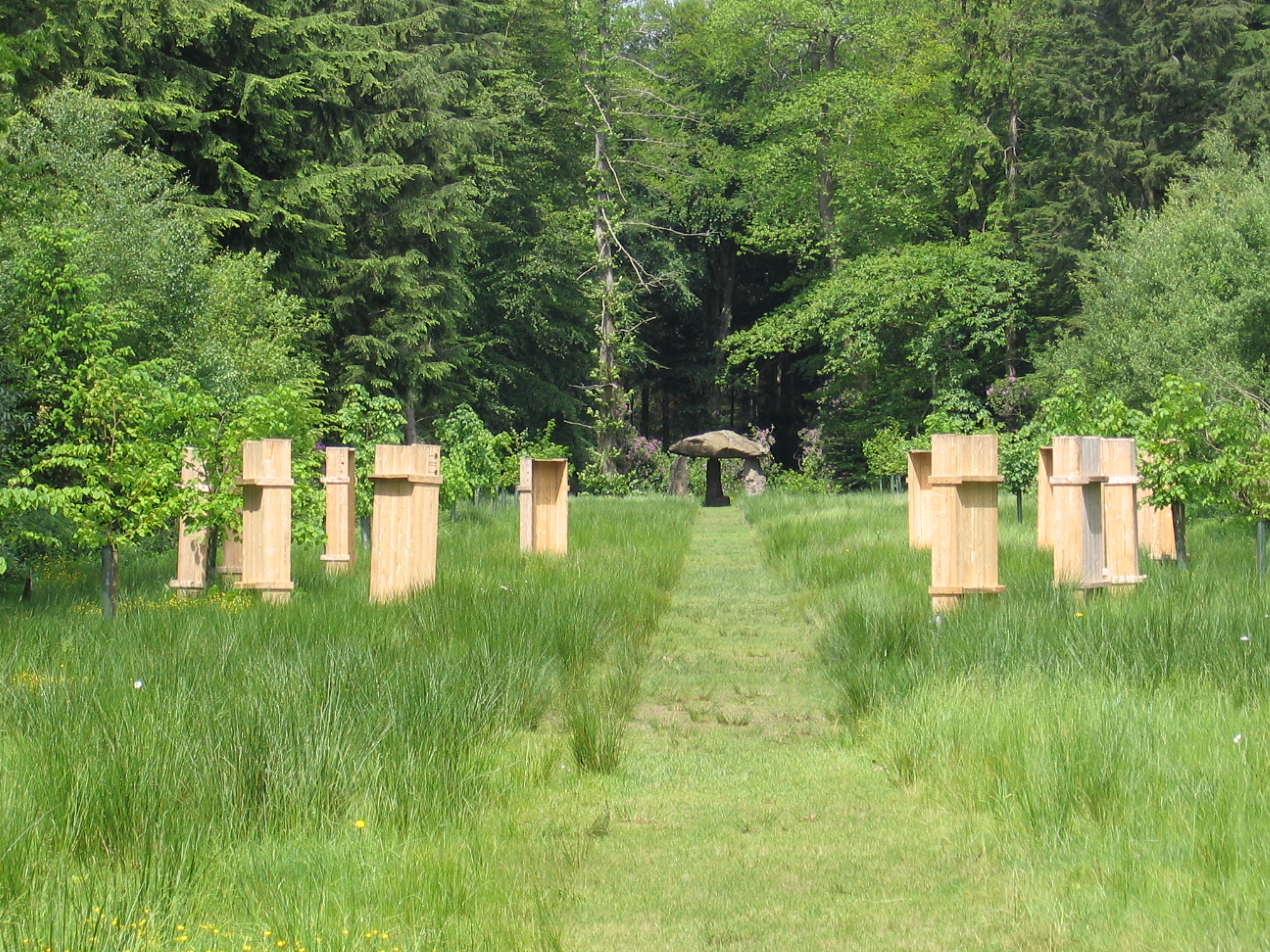 Page 84 to 92
(Un)marked Boxes
(film still). © Eila Goldhahn 2023.
Click on image to view this 10 minute documentation about the making and public reception of this work at Dartington Trust and Delamore Arts, UK.
Page 136 to 143
Collaborative Choreography
(Video still, filmed in Helsinki) © Eila Goldhahn 2023.
Please
email
and ask for a free file transfer of the 16 minute documentary.
Make contact