Exhibition Birdwood House Gallery, Totnes, Devon, UK
Eila Goldhahn is an arts-led researcher with an expertise in embodiment, gesture, site and visuality. Stuart Young practices sculpture and photography. They jointly work on creating a body of work documenting and commenting on the locations they inhabit and how these might reflect larger, geopolitical developments.


The MoverWitness
...a way of practicing "Authentic Movement"
We now understand that we are part of a collective body and habitat. That what supposedly separated us is revised in the face of geopolitical changes.



Wir verstehen jetzt, dass wir Teil eines kollektiven Lebensraums, ja Körpers sind. Das was uns vermeintlich trennte wird revidiert angesichts geopolitischer Veränderungen.


When the own inner observer becomes empathetic, others may be reflected with less prejudice and judgement too. Perhaps the MoverWitness can prepare for a new egalitarianism.



Wenn der eigene innere Betrachter empathisch wird, können auch andere mit weniger Vorurteil und Urteil gesehen werden. Vielleicht kann der MoverWitness auf einen neuen Egalitarismus vorbereiten.

As long as nature remains at least in part available to our contemplation, we can train our esteem in her. We can be still and sense our embodied selves and appreciate the sight of a river, a plant, a bird or a newborn.



Solange die Natur uns noch in Aspekten zur Verfügung steht, können wir unsere Wertschätzung durch Kontemplation an ihr trainieren. Noch können wir still sein und unsere Körper empfinden und die Ansicht eines Flusses, einer Pflanze, eines Vogels oder eines Neugeborenen geniessen.

Being seen digitally: here, now and everywhere is a web-based visualisation of analog art works, which emerged as part of a PhD research project on movement and dance (Shared Habitats The MoverWitness Paradigm 2007) and continued in new art works and publications.

Movement, dance and observation are the starting points for the here presented sculptures, objects and installations. The themes of development, birth and death stand visibly in the foreground, with silence and movement as recurring topics in the MoverWitness.

The MoverWitness is a method applicable in art, dance, sociology and other arts, humanities and sciences, where an observer and "that what moves" are interdependently connected. The MoverWitness is an interdisciplinary tool developed from the Discipline of Authentic Movement by Eila Goldhahn.

Shared Habitats ist eine web-basierte Visualisierung von analogen und digitalen künstlerischen Arbeiten, welche in einer arts-led Doktorarbeit über Bewegung und Tanz entstanden (Shared Habitats The MoverWitness Paradigm, E Goldhahn 2007) und in neuen Arbeiten weiterentwickelt wird.

Bewegung, Tanz und Beobachtung sind die Ausgangspunkte für die dargestellten Positionen in Skulpturen, Objekten und Installationen.
Der MoverWitness ist lern- und anwendbar in der Kunst, Tanz, Soziologie und anderen Künsten und Human- und Naturwissenschaften. Die Prämisse ist , dass Beweger, oder das "was sich bewegt" und Beobachter miteinander verbunden und in einer Wechselbeziehung stehen. Der MoverWitness ist eine interdisziplinäre Methode, die sich aus Authentischer Bewegung (Adler 2002) entwickelt hat. Sie bedient sich und trainiert eine phenomenologische, beschreibende Sprache (percept language) in welcher die individuelle Erfahrung als Teil eines Habitats erfahren lässt.
Eila Goldhahn tanzt vor dem digitalen Auge in Rafael Lozano-Hemmers Installation bei der Venedig Bienale 2007.
Eila Goldhahn dances in front of the digital eye in Rafael Lozano-Hemmers Installation bei der Venedig Bienale 2007. (Copyright with the artists)
(Un)marked Boxes
Obliteration and the fear of death have always been important aspects of collective narratives, as the survival of the human species is a deeply inscribed, instinctual concern. Societies and their collective experiences contain an energy, whether mystical or scientific, to try to determine the course of the human and planetary history. Experiences of collective movement and dance and an imagined collective body inspired these installations with packing crates. In the face of the current pandemic and geopolitical tensions this work seems all too real.
Material: wooden crates
Works shown at: Dartington Trust, UK
Delamore Arts, UK
Auslöschung und die Angst vor dem Tod waren stets wichtige Aspekte kollektiven Erzählens, da das Überleben der Menschheit als Spezies von tief eingeschriebener, instinktiver Besorgnis ist. Gesellschaften und ihre kollektive Erfahrungen beinhalten unter anderem die Energie den Verlauf der menschlichen und planetaren Geschichte zu versuchen zu determinieren. Erfahrungen mit kollektiver Bewegung und Tanz und einem imaginären kollektivem Körper inspirierten diese Installationen mit Verpackungskisten. Die gegenwärtige Pandemie und geopolitische Krise verleihen den Installationen eine allzu realistische Relevanz.

Portrait of a Mover (Video still)



Movers at Dartington (Video still)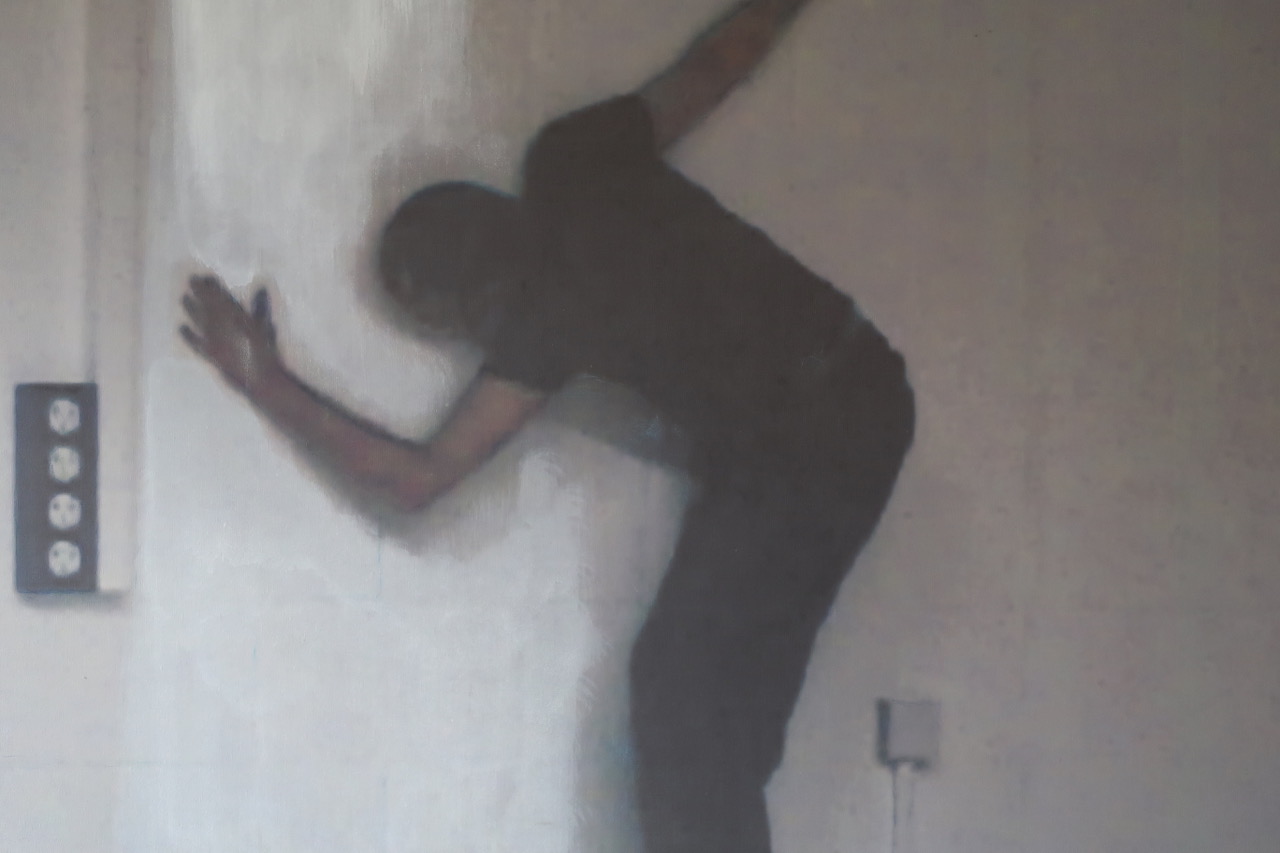 The Wall, detail 1 (painting on video still)




The Wall, detail 2 (painting on video still)



The Wall, detail 3 (painting on video still)

Terms of Use
Welcome to Shared Habitat.
These terms and conditions outline the rules and regulations for the use of Shared Habitat which is Eila Goldhahn's and Stuart J Young's website. By accessing this website we assume you accept these terms and conditions in full. Do not continue to use Eila Goldhahn's and Stuart J Young's website if you do not accept all of the terms and conditions stated on this page. The following terminology applies to these Terms and Conditions, Privacy Statement and Disclaimer Notice and any or all Agreements: "Client", "You" and "Your" refers to you, the person accessing this website and accepting the Company's terms and conditions. "The Company", "Ourselves", "We", "Our" and "Us", refers to ourselves, namely Shared Habitat and/or Eila Goldhahn and Stuart J Young. "Party", "Parties", or "Us", refers to both the Client and ourselves, or either the Client or ourselves. All terms refer to the offer, acceptance and consideration of payment necessary to undertake the process of our assistance to the Client in the most appropriate manner, whether by formal meetings of a fixed duration, or any other means, for the express purpose of meeting the Client's needs in respect of provision of the Company's stated services/products, in accordance with and subject to, prevailing law of. Any use of the above terminology or other words in the singular, plural, capitalisation and/or he/she or they, are taken as interchangeable and therefore as referring to same.



Cookies
We do not employ the use of cookies on this website but there may be cookies employed on links such as Vimeo and Films Media Group.

License
Unless otherwise stated, Dr Eila Goldhahn and Stuart J Young and/or it's licensors own the intellectual property rights for all material on Shared Habitat. All intellectual property rights are reserved. You may view and/or print pages from www.sharedhabitat.net for your own personal use subject to restrictions set in these terms and conditions.
You must not, unless with prior approval and express written permission:

Hyperlinking to our Content
The following organizations may link to our website without prior written approval:
- Government agencies;
- Search engines;
- News organizations;
- Online directory distributors when they list us in the directory may link to our Web site in the same manner as they hyperlink to the Web sites of other listed businesses; and
- Systemwide Accredited Businesses except soliciting non-profit organizations, charity shopping malls, and charity fundraising groups which may not hyperlink to our Web site.

These organizations may link to our home page, to publications or to other Web site information so long as the link:


-is not in any way misleading;




-does not falsely imply sponsorship, endorsement or approval of the linking party and its products or services;




-and fits within the context of the linking party's site.



We may consider and approve in our sole discretion other link requests from the following types of organizations:
- educational institutions and trade associations.
- commonly-known consumer and/or business information sources such as Chambers of Commerce;
- dot.com community sites;
- associations or other groups representing charities, including charity giving sites,
- online directory distributors;
- internet portals; and
- accounting, law and consulting firms whose primary clients are businesses


We will approve link requests from these organizations if we determine that:
-the link would not reflect unfavourably on us or our accredited businesses (for example, trade associations or other organizations representing inherently suspect types of business, such as work-at-home opportunities, shall not be allowed to link);
-the organization does not have an unsatisfactory record with us;
-the benefit to us from the visibility associated with the hyperlink -outweighs the absence of Shared Habitat;
-where the link is in the context of general resource information or is otherwise consistent with editorial content in a newsletter or similar product furthering the mission of the organization.


These organizations may link to our home page, to publications or to other Websites information so long as the link:
-is not in any way misleading;
-does not falsely imply sponsorship, endorsement or approval of the linking party and it products or services; and
-fits within the context of the linking party's site.

If you are among the organizations and are interested in linking to our website, you must notify us by sending an e-mail to sharedhabitat.net

Please include your name, your organization name, contact information (such as a phone number and/or e-mail address) as well as the URL of your site, a list of any URLs from which you intend to link to our Web site, and a list of the URL(s) on our site to which you would like to link. Allow 2-3 weeks for a response.





Approved organizations may hyperlink to our Web site as follows:




-By use of our name Shared Habitat; or




-By use of the uniform resource locator (www.sharedhabitat.net) being linked to; or




-By use of any other description of our Website or material being linked to that makes sense within the context and format of content on the linking party's site.



No use of Shared Habitat's name or logo or Dr Eila Goldhahn's and Stuart J Young's artwork will be allowed for linking absent a copyright license agreement.

I frames
Without prior approval and express written permission, you may not create frames around our Web pages or use other techniques that alter in any way the visual presentation or appearance of our Website.

Reservation of Rights
We reserve the right at any time and in its sole discretion to request that you remove all links or any particular link to our Website. You agree to immediately remove all links to our Website upon such request. We also reserve the right to amend these terms and conditions and its linking policy at any time. By continuing to link to our Website, you agree to be bound to and abide by these linking terms and conditions.

Removal of Links from our Website
If you find any link on our Website or any linked website objectionable for any reason, you may contact us about this. We will consider requests to remove links but will have no obligation to do so or to respond directly to you. Whilst we endeavour to ensure that the information on this Website is correct, we do not warrant its completeness or accuracy; nor do we commit to ensuring that the Website remains available or that the material on the Website is kept up to date.

Content Liability
We shall have no responsibility or liability for any content appearing on your website. You agree to indemnify and defend us against all claims arising out of or based upon your website. No link(s) may appear on any page on your website or within any context containing content or materials that may be interpreted as libellous, obscene or criminal, or which infringes, otherwise violates, or advocates the infringement or other violation of any third party rights.

Disclaimer
To the maximum extent permitted by applicable law, we exclude all representations, warranties and conditions relating to our Website and the use of this Website (including, without limitation, any warranties implied by law in respect of satisfactory quality, fitness for purpose and/or the use of reasonable care and skill).


Nothing in this disclaimer will:
- limit or exclude our or your liability for death or personal injury resulting from negligence;
- limit or exclude our or your liability for fraud or fraudulent misrepresentation;
- limit any of our or your liabilities in any way that is not permitted under applicable law; or
- exclude any of our or your liabilities that may not be excluded under applicable law.

The limitations and exclusions of liability set out in this Section and elsewhere in this disclaimer: (a) are subject to the preceding paragraph; and (b) govern all liabilities arising under the disclaimer or in relation to the subject matter of this disclaimer, including liabilities arising in contract, in tort (including negligence) and for breach of statutory duty.

To the extent that the website and the information and services on the website are provided free of charge, we will not be liable for any loss or damage of any nature.


© Eila Goldhahn and Stuart J Young.
All rights reserved 2022.




Copyright in all images and texts

Dr Eila Goldhahn and Stuart Young 2022

Eigentümer der auf dieser Webseite dargestellten Texte und Bilder sind gesetzlich geschützt und dürfen nicht ohne ihre ausdrückliche und schriftliche Genehmigung kopiert oder anderweitig verbreitet werden. Jegliche Zuwiderhandlungen werden strafrechtlich verfolgt.

© Eila Goldhahn & Stuart Young

All rights reserved 2022.

Terms of Use & Privacy

Funding partners: